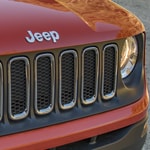 The 2020 Jeep Renegade is an impressive vehicle inside and out, but we will specifically zero in on the outsides of this vehicle today. It has an impressive body built for the great outdoors, and this is evident when looking at the easily removable sunroof. That piece allows you to take it off quickly and easily for a breath of fresh air. Simply put it in the cargo area of the Jeep until you need it later.
The LED lights are another point of pride on the 2020 Jeep Renegade. They power their way forward even on the darkest of nights, and that is great from both a safety perspective and for the look that it provides this beast at night.
The front end has been carefully touched up to make it look brilliant wherever you end up taking it. The grille openings and vents have been strategically placed to make the 2020 Jeep Renegade look bold and beautiful all the time.