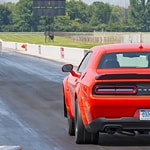 The Dodge Challenger is a muscle car that has been wildly popular around the world for decades. It is a lot of fun to drive and is sure to attract your fair share of attention as you drive it home at night. The Challenger is also quite comfortable given its array of convenient interior features.
In this day and age, it is always important to stay connected while you are driving. The Apple CarPlay feature that is now included with the Dodge Challenger allows that to happen. You can make use of the various features on your iPhone in a seamless and easy fashion.
Because drivers and passengers never seem to be able to agree on the optimal temperature inside the car, the Dodge Challenger how has a dual-zone climate control system that operates automatically. This allows you to set each side of the car at a different temperature. This will keep everyone happy no matter how long the journey might be.